National Certifying Board of Otorhinolaryngology and Head-Neck Nurses

CERTIFICATION
The National Certifying Board of Otorhinolaryngology and Head-Neck Nurses (NCBOHN) endorses the concept of voluntary, periodic certification by examination for all otorhinolaryngology and head-neck registered nurses. Certification is one part of a process called credentialing. It focuses specifically on the individual and is an indication of current competence in a specialized area of practice. Board certification in otorhinolaryngology and head-neck nursing is highly valued and provides formal recognition of basic otorhinolaryngology and head-neck nursing knowledge.
The Certification Program is sponsored by the National Certifying Board of Otorhinolaryngology and Head-Neck Nurses (NCBOHN). The Certification Examination for Otorhinolaryngology and Head-Neck Nurses is administered for the NCBOHN by the Professional Testing Corporation (PTC), 1350 Broadway – 17th Floor, New York, New York 10018, (212) 356-0660. Questions concerning the examination should be referred to PTC.
| | |
| --- | --- |
| Application Deadline | Testing Window |
| September 7, 2022 | October 8 – October 22, 2022 |
Congratulations To Our New & Renewing CORLN's for 2021
Jennifer Brosh
Cindy Dawson
Tory DeRose
Mildred Hale
Katherine Hanlon

Nicole Hardy
Deena Hollingsworth
Helen Lazio-Stegall
Carol Maragos
Kari McConnell

Amy Meadors
Carolyn Miller
Komal Patel
Cristie Roush
Deborah Strike
If you have questions about your certification status, email [email protected].
---
Core Curriculum For Otorhinolaryngology and Head-Neck Nursing – 2nd Edition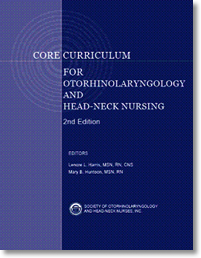 This text is designed to be used by ORL-HN nurses. The book provides an overview of all aspects of nursing practice for the patient with an otolaryngologic problem or abnormality. It provides a foundation of knowledge for generalist and advanced practice nurses working in every ORL-HN practice setting. In addition, it serves as a basic text for students, nurses, administrators and nurse educators.


Textbook and CD — $195  ($175 for SOHN Members)
Textbook —  $160  ($140 for SOHN Members)
CD — $120  ($105 for SOHN Members)

Includes shipping and handling charges in USD. Add $45 for shipping and handling to orders contiguous outside of US.
---
National Certifying Board for Otorhinolaryngology and Head-Neck Nurses (NCBOHN) Leadership
President
Margaret Wallace MSN FNP CORLN
Vice President
Cristie Roush DNP GNP-BC
Secretary/Treasurer
Betsey Kim MSN CRNP CORLN
Executive Director
Sandra Schwartz MS RN CORLN